Pamplona's airport is located approximately six kilometers south of Pamplona in the town of Noáin. The single-terminal airport sees approximately 500,000 passengers each year- more than double from just 10 years ago! There are regular flights each day to and from major cities like Madrid, Barcelona, León, Málaga, Valencia and Palma de Mallorca, along with plenty of flights to and from other destinations throughout the week.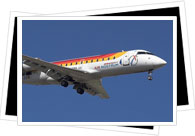 There are two ways to get to downtown Pamplona from the airport. The cheapest option, for 1 euro, is to look for bus lines 16 and 21, which will bring you right into the center. The quickest option, on the other hand, is to grab a taxi. There is a taxi stand just outside the airport door, where you're sure to find plenty of cabbies happy to bring you into town.
Flights to Pamplona
If you're looking for flights to Pamplona, the following airlines offer frequent flights to and from Navarra's picturesque capital.
Air Nostrum
Website: www.airnostrum.es
Telephone: 902 400 500
British Airways
Website: www.ba.com
Telephone: 902 111 333
Iberia
Website: www.iberia.es
Telephone: 902 400 500
Spanair
Website: www.spanair.com
Telephone: 902 141 435
Tap Portugal
Website: www.flytap.com
Telephone: 901 116 718