With the mouth-watering smells of Basque food wafting out into Pamplona's medieval streets, you'll be hard-pressed to find another city with such a dynamic dining scene. Ranging from cheap to expensive, from traditional to innovative and from pintxos (Basque for "tapas") to sit-down meals with multiple courses, Pamplona's restaurants - tucked picturesquely into medieval streets, squares and buildings - appeal to all tastes and budgets.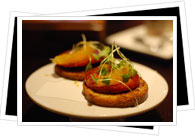 With its small, compact city center, Pamplona is the perfect city in which to spend an evening bar-hopping from tapas bar to tapas bar. Referred to as "pintxos" in much of northern Spain, Basque pintxos are widely considered to be the very tastiest in Spain. The streets Calle San Nicolás, Calle Estafeta and Calle de Jarauta are chock-full of pintxos bars
For cheap eats, head to the streets branching out around Calle Mayor- such as Calle San Lorenzo - for "menús", sandwiches and all sorts of scrumptious tapas that are easy on the wallet yet delightful to the palate.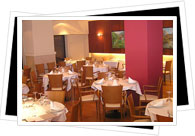 Popular establishments include Café Iruña with its somewhat gaudy belle époque docoration. Located on the Plaza del Castillo, Café Iruña was an Ernest Hemingway favorite and is a great place to nurse a coffee, nibble on a snack or just people watch. Another Pamplona landmark is the Mesón del Caballo Blanco, which is housed in a renovated medieval palace. You'll find it north of the cathedral perched just inside the city walls, a privileged location that provides patrons with unbeatable views. A third famous Pamplona spot is El Vienés, which is located in the Parque de la Taconera, easily one of the city's most beautiful parks.