Los Sanfermines
Once you experience the thrilling Running of the Bulls, you'll see why the week-long celebration of Los Sanfemines captured Ernest Hemingway's heart and inspired his first novel, The Sun Also Rises. Learn more: Running of the Bulls and Ernest Hemingway.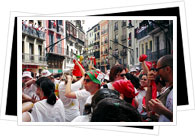 La Navarrería
Once the site of the Roman town of Pompaelo, La Navarrería is the oldest of the three "burgos" (boroughs) that compose the Pamplona's historical center. Lose yourself amongst the winding streets and discover pretty buildings, elegant plazas, old city walls, and the city's centerpiece: the Gothic Cathedral of Santa María. Learn more: La Navarrería.
Vibe
Tucked into the foothills of the Pyrenees, Pamplona is a city with a peaceful, laid-back atmosphere that most cities can only dream about. Once the sun goes down, however, it's a whole different story as the city's university population keeps the nightlife nightlife hip and vibrant.
Parks
Hailed as one of Europe's best "green cities", Pamplona's vast parks and well-kept gardens comprise what is easily one of the city's most appealing aspects. Learn more: parks in Pamplona.
Food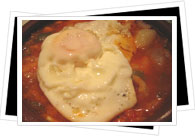 With a unique geographical location that includes rivers, mountains, fertile valleys and the nearby Cantabrian Sea, Pamplona's restaurants serve up creative, healthy and mouth-watering dishes featuring the very freshest of everything. Basque food has long been considered one of the best cuisines in the world, and Pamplona is one of the best places to ir de pintxos (tapas), the deep-rooted Spanish tradition of barhopping around town for scrumptious tapas. Learn more: Basque food.