Pamplona is listed as one of Europe's greenest cities- and with good reason! One of the Pamplona's greatest assets is without a doubt the sheer number of verdant parks and gardens dispersed around and throughout the city.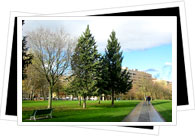 The largest green space in Pamplona is the vast complex comprised of La Ciudadela, the city's former citadel, and the Vuelta del Castillo, the green belt that circles it. Learn more about Pamplona's favorite leisure and sports area: La Ciudadela.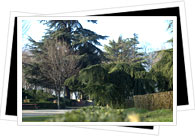 The oldest park is the beloved Parque de la Taconera. Built in 1830, it's a romantic French-style park with walking paths, exotic trees and flowers, fountains, monuments and incredible views. It even has a tiny "zoo" located in what was once a moat, where deer, peacocks, swans, ducks, rabbits and other animals roam about in semi-freedom.
Another pleasant stroll is along the Arga River, which winds around just north of the city. Start out at the Parque de la Medialuna, a park in the shape of a half-moon and situated on a cliff overlooking the Arga River. With trees and benches, it's a decidedly tranquil part of the city and a favorite spot amongst locals. The Parque de la Medialuna is connected to the Parque de Tejería, which is the first section of a river park running all along the Arga River as it winds just north of the city.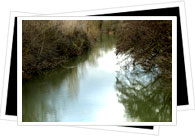 The Parque de Tejería spans from the walls of the Parque de la Medialuna to the Puente de la Magdalena, a beautiful Romanesque bridge. From there, the second part of the 11-kilometer Arga River Park - which marks what was once the border between the city and the country - begins. Located beneath the city walls and along the river, this park also has a small dock for kayaks and rowboats and is flanked by farmhouses, old convents and picturesque enclosures with horses.
One of the city's most unique parks is undoubtedly the Parque Yamaguchi, one of the few Japanese-style gardens in Europe. In fact, Japanese landscape gardeners were even employed in its construction. Built in 1997 to reflect the good relations between Pamplona and its sister city Yamaguchi, Japan, the park features decidedly Japanese elements: a large geyser, a stilt house, a large pond with a bridge and waterfall, and many trees, bushes and flowers brought in from Japan. Here, you'll also find Pamplona's planetarium, which puts on exhibitions and displays all year long.
Other parks in Pamplona:
Parque de los Enamadores
Parque del Runa
Parque de Antoniutti
Parque Arrosadia