While there's not much need for a car if you're planning on just hanging out in Pamplona, Navarra is a fascinating region of pretty towns, alpine countryside and unspoiled nature- with a rental car, you can easily discover it all! If you're planning on traveling, it might be a wise decision to rent a car from a major car rental company with branches located throughout Spain.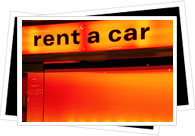 That way, you don't have to necessarily return the car to the same city from which you rented it.
In Pamplona, there are rental agencies both in the city center as well as at the airport. If you can't locate a rental company but you're interested in getting your own set of wheels for a few days, you can always ask at the front desk of your hotel.
Pamplona Car Rental
Atesa
Tel: 948 312810 (airport)
Tel: 948 258003 (city center)
www.atesa.es


Avis
Tel: 948168763 (airport)
www.avis.es


Europcar
Tel: 948 312798 (airport)
Tel: 948 172523 (city center)
www.europcar.es


Hertz
Tel: 948 311595
www.hertz.es