Personal Safety in Pamplona
As one of Spain's safest cities, Pamplona's crime rate is practically non-existent. In fact, locals and visitors enjoy one of the lowest crime rates in the whole country. However, it's always better to be safe than sorry, so be sure to use your common sense and be aware of your surroundings... just don't overdo it and turn into a paranoid mess!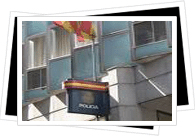 The only time of year when you should be extra-aware is during the wildly-popular July festival of San Fermín, more commonly referred to as the Running of the Bulls, when pick-pocketers are roaming about. At particular risk are those who opt to sleep in the many parks during the festival (a common practice) instead of renting an overpriced hotel room. Leave your belongings in luggage storage at the bus station and carry just the essentials with you.
Otherwise, here are a few tips for personal safety; keep them in mind any time you travel:
Keep an eye on you belongings
Be particularly aware in crowded, touristy areas; unsuspecting tourists are the easiest targets
Carry copy of your passport and leave the original in your hotel safe
Don't carry all of your valuable items - passport, money, credit cards - all in one pocket.
Be sensible! Don't count your money sitting on a city bench or lay your camera out on the table as your sip coffee at a sidewalk café.
Should something unfortunately happen and you want to report a theft or other crime, head to the police station - or "comisaría" - conveniently located right in the Plaza del Castillo.
Emergency Numbers for Pamplona
All emergencies: 112 / 848 423 010
Local police: 092
National police: 091
Fire department: 112 / 848 423 010
Ambulance: 948 151 644
Other Useful Numbers for Pamplona
Airport: 948 168 750
R.E.N.F.E. (National train service): 902 240 202
Bus station: 948 203 566
Taxi: 948 232 300
Urban buses: 901 502 503
Tourism office: 948 206 541
Lost property: 948 420 612
Embassies & consulates
Credit Card Numbers in Spain
In the event of a credit card mishap, you can call these toll-free numbers to make a cancellation:
American Express: 915 720 303
MasterCard: 900 971 231
Visa: 900 974 445
Hospitals in Pamplona
Hospital of Navarra
Address: C/ de Irunlarrea, 3
Tel: 848 422 100
Hospital Virgen del Camino
Address: C/ de Irunlarrea, 4
Tel: 848 429 400
Clínica Universitaria Universidad de Navarra
Address: Avda. Pío XII, 36
Tel: 948 255 400
Hospital San Juan de Dios
Address: C/ Beloso Alto, 3
Tel: 948 231 800