Pamplona's two impressive theater spaces, the Teatro Gayarre and the Baluarte auditorium, together boast eclectic schedule jam-packed with performances of all kinds.
El Teatro Gayarre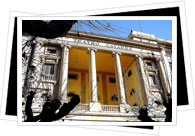 The original theater, built in 1841, was called the Teatro Principal and later renamed the Teatro Gayarre to honor local opera singer Julián Gayarre, who had recently passed away following an illustrious career. When the city of Pamplona was finally allowed to expand beyond the city walls that had for so long enclosed it, Pamplona's main theater moved from Plaza del Castillo to its present location. When the theater moved and was rebuilt, much of its original 19th century façade was preserved. Come here for top-notch music, theater and dance performances.
Teatro Gayarre
Address: c/ Carlos III 3
Telephone: 948 220 139 (box office)
Telephone: 948 222 333 (telephone ticket sales)
Website: www.teatrogayarre.com
El Baluarte
To construct the Baluarte, a modern conference center and auditorium, two of of the five bastions of La Ciudadela, Pamplona's massive citadel, had to be taken down. Today, El Baluarte features all sorts of cultural acts, and its impressive auditorium is one of Pamplona's top venues for theater, dance and music performances. It's also the main stage for the Orquesta Sinfónica de Navarra, Navarra's symphonic orchestra, and the Coral de Cámara de Pamplona, Pamplona's chamber choir.
El Baluarte
Address: Pl. Baluarte, s/n
Telephone: 948 066 060
Website: www.baluarte.com