Tucked into the dramatic landscape of the Pyrenees mountains and just a stone's throw from the French border is the miniscule town of Roncesvalles. What it lacks in size, however, is more than compensated for in history and culture. It's where, in the 8th century, Basque tribes defeated Charlemagne at the Battle of Roncesvalles. It's where King Sancho VII came out victorious over the Moors in the 13th century Battle of Las Navas de Tolsa.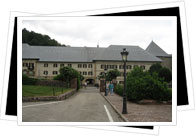 However, its greatest claim to fame is that as the point of departure of the historic Way of Saint James, the ancient pilgrimage to the Galician city of Santiago de Compostela. Don't be surprised if you run into packs of pilgrims - wielding walking sticks, backpacks and the symbolic shell hanging around their necks - as they pass through the town, as the pilgrimage remains popular over 1,000 years after it was begun!
Roncesvalles really isn't much more than a monastery complex and you'll have no problems finding the major sights as you also enjoy the fascinating scenery that surrounds you. The town's most significant highlights are the 12th century Romanesque chapel of Sancti Spiritus and the Real Colegiata- a stunning Gothic church featuring a beautiful cloister, a chapterhouse with star-ribbed vaulting, King Sancho VII's tomb and a silver-coated statue of the Virgin Mary.
Getting to Roncesvalles
Roncesvalles is located just over 45 kilometers from Pamplona and is easy to get to, thanks to the bus companies Río Irati-Albizua and La Montañesa. However, check on time schedules ahead of time, as there's usually only one bus to and from each day.