Museo Diocesano / Diocesan Museum
Once you visit the Catedral de Santa María, take a look through the Museo Diocesano. The museum is located in the cathedral's former kitchen and refectory - sights in their own right - and showcases a valuable collection of Navarran religious artwork, including Romanesque and Gothic statues; chests and religious items dating back to the Middle Ages; beautiful paintings; carvings from the Renaissance and Baroque periods and much more.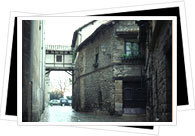 Address: Calle Domitalería, 3-5
Telephone: 94 821 08 27
Hours: Mon-Fri, 10am-2pm and 4-7pm; Saturdays, 10am-2pm. Closed Sundays and public holidays.
Is there an admission fee? Yes
Website: www.iglesianavarra.org/78catpam.html
Museo de Navarra / Museum of Navarra
Perhaps the area's top cultural spot is the Museo de Navarra, a small but interesting museum dedicated to Navarra's rich cultural, artistic and historical heritage. The museum is housed in a medieval former hospital, the 16th century Hospital de Nuestra Señora de la Misericordia, and has an eclectic array of sculptures, paintings, archaeological finds from prehistory right up through present day.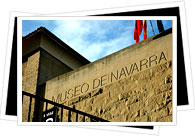 Take time to explore the collection, which features Romanesque capitals from Pamplona's ancient cathedral; Moorish artwork and chests; uncovered Roman mosaics; works by Navarran artists and even a painting by Goya. It also hosts a constant rotation of temporary exhibitions, film series, conferences, courses and other cultural activities.
Address: Calle Santo Domingo, 47
Telephone: 84 842 64 92
Hours: Tues-Sat, 9:30am-2pm and 5pm-7pm; Sundays & public holidays, 11am-2pm; Closed Mondays
Is there an admission fee? Yes, but free admission on Saturday afternoons and on Sundays.
Website: www.cfnavarra.es/cultura/museo/index.htm
Galleries and Exhibitions
La Ciudadela: El Polvorín, La Sala de Armas, El Horno, Pabellón de Mixtos
Sala de Exposiciones García Castañón

Sala de Exposiciones Zapatería

Galería San Antón

Galería de Arte Carlos Ciriza