Thanks both to the intrinsically social nature of Spaniards and to the city's 20,000-strong university population, Pamplona has a lively after-dark scene that keeps revelers dancing 'til dawn.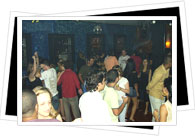 Pamplona's Old Quarter - the Navarrería, San Cernin and San Nicolás districts - is where most locals get the night started, accompanying good times with tasty pintxos, wine and beer. The streets Calle San Nicolás and Calle Estafeta are lined with bars and clubs of all kinds, as is Calle de Jarauta. Early on, you're bound to run into a pretty young crowd on Calle de Jarauta early on in the evening, but come midnight the noisy bars fill up with 20- and 30- somethings who are just getting the night started.
After a few hours bar-hopping around the Old Quarter, the focus of Pamplona's nightlife shifts to the modern neighborhood of San Juan, which is a walk or short taxi drive in the general direction of the university. Avenida de Bayona has something for all styles, ranging from trendy dance clubs to laid-back English pubs with live rock and bars playing the latest in international pop music. Favorite late-night locales include Marengo, a huge nightclub featuring Latin music and smartly-dressed party-goers, and Reverendos, a techno-blasting discoteca. These nightclubs open after 11:00pm and are likely charge a cover between 6€ and 12€, which usually includes a drink.