The compact center of Pamplona, once a fortress-city completely enclosed by fortified walls, is made up of three boroughs dating back centuries. Until 1423, these "burgos" were actually separate municipalities that constantly fought against each other, even constructing walls between them. Spanish King Felipe II, who saw Pamplona as a key defensive stronghold against European forces entering Spain via the Pyrenees, ordered the construction of La Ciudadela, a vast citadel, on the southwestern edge to protect the city and keep an eye on any unwelcome military movements coming Spain's way.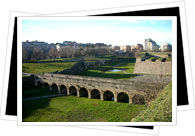 Today, Pamplona's historic center is a delightful medley of winding streets, picturesque squares, beautifully-preserved architecture and quaint nooks- a dream for anyone with a penchant for wandering!
Learn more about what to do, see and experience in the most emblematic parts of Pamplona by clicking on the links below.
Pamplona City Guide