In Pamplona there are enough stores, shops and boutiques to spend an hour, an afternoon, a day or a whole weekend shopping, just you and your trusty credit card. Whether your style involves tearing through fashion stores at record-breaking speeds or taking your time to peruse quaint craft shops, this dynamic city is ideal for all shoppers.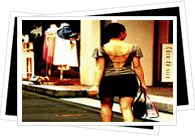 If you're after a new outfit to debut, the Avenida Carlos III is essentially Pamplona's version of New York City's Fifth Avenue. Flanking the Avenida Carlos III and its surrounding streets - the fashion hub of Pamplona - you'l find all sorts of Spanish, European and international retail chains of all price ranges. The Old Quarter is the most picturesque shopping area, where one-of-a-kind shops and boutiques rub shoulders with the typical tourist shops, where you'll find plenty of Running of the Bulls paraphrenalia.
The Old Quarter is also where to go in search of typical products of Navarra. There are stands selling traditional products set up throughout the center as well as a few specialty shops. One of these such shops is Echeve (C/ Mercaderes 14), where you can pick up typical products like vests, ceramics, hats, woodcarvings and "botas", wineskins used to squirt wine right into the mouth). Las Tres ZZZ (C/ Comedias 7) is also worth a stop, where you'll find more "botas", neckerchiefs and "gerrikos", wide belts often used by weight lifters.
If you want to give the folks at home a literal taste of Pamplona, the city has all sorts of edible and drinkable local products that are sure to impress. Make a stop at the Vinoteca Murillo (corner of C/ de San Gregorio and Plaza de San Nicolás), a wine shop where you can pick up all sorts of local delicacies, including Navarra's famous red, white, rosé and muscatel wines.