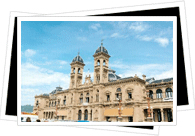 Introduction
San Sebastian is the confined treasure of the Basque country that is bound by the majestic Guipuzcoa province landscape. It dates back, according to written records, to 1014 and its main architectual content is the product of the continued withdrawal of Napolean's troops. It has been hit hard by historic military action but has nurtured a town to be proud of.
On to the sights
You will be spoilt with choices when you arrive in San Sebastian, so here's a run down of some of the activities that will catch your attention dependent on your mood. The aquarium is first on the list; it incorporates a variety of tropical fish that will occupy your attention and if you're feeling for a unique twist to the experience then head to the glass underwater tunnel. It throws you the challenge of coming face to face with a host of sharks and you can even watch whilst they are being fed (so anyone fancy facing fears?..no?).
If you like the idea of your feet being on dry land far away from the likes of Jaws then you can appreciate the art of Eduardo Chillida, a sculptor whose work ranges over the 20th century. The uncommon feature of this occasion is the location of the Mueso Chillida Leku; displayed in a renovated farmhouse, it will surely make you look twice at times.
Time to eat!
At the end of an eventful day you will build up an appetite or even if you just want a pit stop during the day; in either of these cases, try one of the excellent tapas bars located throughout the area. It's worth having your own little adventure finding one as it makes the experience more fun, but try the award-winning pintxos (Basdque for tapas) at Bar Txepetxa to get you started.