Pamplona is generally a reasonably-priced travel destination, loaded with accommodation options for all tastes and budgets. The most picturesque hotels and hostels are tucked into the winding streets and old buildings of the historic city center, with the cheapest options found on the streets San Nicolás and San Gregorio, which span the distance between Plaza del Castillo and La Ciudadela.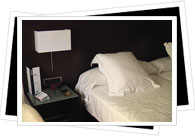 If you're willing to venture a bit outside of the center and into the more modern neighborhoods, there's a slew of accommodation options there as well... though these choices are decidedly less interesting and lack the atmosphere of the medieval city center.
The one time of year when Pamplona accommodations are filled to the brim is during the rowdy San Fermín festival, most known internationally for its thrilling Running of the Bulls. If you're traveling to Pamplona to see this internationally famous festival - which begins in early July - and you're planning on staying in a hotel, here are a couple of things to keep in mind:
Book well ahead of your visit. Hotels and especially hostels book up FAST, and if you don't book ahead of time you may find yourself out of luck come time for your trip.
All hotels raise their prices during Los Sanfermines, sometimes doubling, tripling or even quadrupling what they normally charge. Basically, hotel owners charge whatever they think they can get... and they usually get it from desperate festival revelers who left finding accommodation to the last minute.