While Pamplona enjoys rather mild temperatures moderated by its proximity to the Cantabrian coastline, it also has a climate marked heavily by contrasts and seasonal changes. Instead of being gradual, the transitions from season to season are sudden- especially from winter to spring and from summer to fall.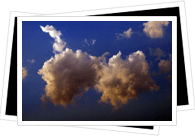 The average temperature in Pamplona for the whole year is 12.4ºC. The hottest month is August, with an average maximum temperature of roughly 27ºC, while the coolest month is generally January with an average low temperature of 1.1ºC. However, temperatures in the summer can reach over 35ºC and winter temperatures can plunge below 0ºC.
Days in Pamplona are generally breezy and cloudy, and the city gets enough rain to keep the surrounding landscapes lush and green- about 130 days each year! You can expect the majority of this rain during the winter, while July and August are the driest and sunniest months.