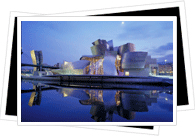 Introduction
Bilbao has something of an interesting history, especially over the last few decades when it has taken a complete transformation. Previously a quiet and docile city, nowadays it has a rejuvenated nightlife and has turned into the cultural captial of northern Spain. The centre of the town is the Casco Viejo (old town), where you will find a host of restaurants and bars to thank for Bilbao's stellar reputation. Its main attraction, which has been absolutely flooded with priase, is the Guggenheim Mmuseum.
Bilbao Guggenheim Museum
So where better to start than the city's top attraction? The Bilbao Guggenheim Museum was opened in 1997 and, although appears random by its physical apperance, it does have a hidden influence. Bilbao has a rich history at sea and the design of the museum incorporates the hull of a boat and the anatomy of a fish. This can be seen in the rivets on the structure, which are intended to represent the scales of a fish.
It has a permanent collection featuring a wide range of Spanish and international artists whose work spans from the mid-twentieth century right up through present day. Avant garde is the key word for most of the exhibits that pass through its doors and each is as unique as the next. Plus, with free tours in English there's no excuse not to go. The building is absolutely stunning at night, as the moonlight reflects off the industrial river and the building. It is a refreshingly bold and exciting edifice that has totally revamped what was once Bilbao's old industry sector.
What else to visit
A perplexing yet interesting sight is the Zubizuri, another unique design. Created in 1997, this emblematic white bridgestretches over the Nervion river. Made of white concrete and steel with the floor panels made partially of glass, it's truly a stunning spectacle.