Tudela is a delightful surprise in the midst of the generally unexciting southern zone of Navarra, which makes this ancient town stand out even more. The twisting streets of Tudela's old quarter speak volumes about the centuries spent under Muslim rule. Mixed into the Moorish character, however, is a wide range of Christian architecture that span the centuries following the Catholic monarchy's sweeping Reconquest.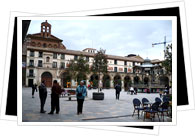 Enjoy a stroll through the ancient streets and make sure to stop by the following highlights: the impressive 17th century Plaza de los Fueros, the 12th century Gothic cathedral and its stunning western entrance, the 13th century bridges boasting the awnings typical of Aragón. over the Ebro River, the Romanesque churches of la Magdalena and San Nicolás, and a slew of fine old mansion
Getting to Tudela
Unless you rent a car, Tudela is just a short train or bus ride away from Pamplona. What's more, Tudela's bus and train stations are conveniently situated right in the center of town, makin. Renfe, the national rail network, operates train travel throughout the country; check its official website for fares and schedules: www.renfe.es.
If you opt to travel by bus, the main company handling the Pamplona - Tudela route is Conda, S.A. For more information on fares and schedules, consult their website: www.conda.es.