If you're a train-traveling tourist, you will be arriving in and departing from Pamplona's Estación de Tren (Train Station), located in the apty named Plaza de la Estación. The train station is in the district of San Jorge, which isn't far from the center. You can either walk, take bus number 9 to the city center or hail a cab at the taxi stand outside the station doors.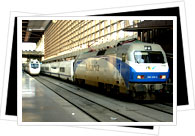 Trains in Spain are operated by RENFE, Spain's fantastic national rail network, and there are regular routes between Pamplona and the following cities: Alicante, Alsasua, Barcelona, Burgos, Coruña, Irún, Hendaya, León, Lugo, Madrid, Orense, Oviedo, Palencia, San Sebastián, Valencia, Vigo, Vitoria and Zaragoza. If you're traveling to Pamplona from the south, you'll have to change trains in travel hub Madrid.
For more information about schedules and fares, contact RENFE or check out its official website.
RENFE
Telephone: 902 240 202
Website: www.renfe.es