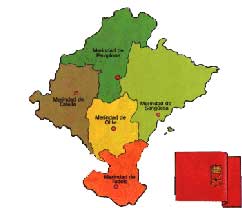 Learn here about Pamplona intricate yet compelling history.
Culture & the Arts
What Pamplona lacks in size it more than makes up for with its cultural scene, where Spanish and Basque cultures converge in the way of festivals. Read more
Trips from Pamplona
we have all the Pamplona travel information you need- and more! Read more
Occupying a unique setting in a valley already part of the Pyrenees foothills, and crossed by three rivers, the main of them called Arga, Pamplona is a city that has much more to offer the visitor than the world-renowned San Fermin festivity: a town of contrast, where the old and the new mix creating an incomparable blend.
This Pamplona guide will help you to discover the tradition in the modern reality of the city.
How to Use this Guide
We want to share with you only the most precise and updated information, from what you should take into account before you arrive in Pamplona -Planning Your Trip- to the different leisure and cultural options in Out & About.
We've also added some other valuable details, such as a History section and a Culture section to give you some more background on a unique Spanish city.