Considered to be amongst the world's culinary treasures, Basque food is the convergence of many things: old and new; coastal and inland; Basque, Mediterranean and French cultures; mountains, valleys and the sea.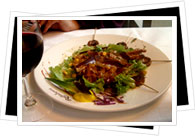 Navarra, the region of which Pamplona is capital, has long been Basque in nature and enjoys a privileged geographical situation. The varied landscape features everything from fertile valleys and mountainous terrain to freshwater rivers and proximity to the sea, all of which play heavily into the local gastronomy. Based on fresh vegetables, fish and lean meats, Basque food is known for being healthy and natural, for being simple yet creative and for incorporating raw materials of top-notch quality.
The nearby rivers and Bay of Biscay provide Pamplona with all sorts of saltwater and freshwater fish and seafood, such as cod, tuna, hake and salmon; the mountainous landscapes provide the city with sheep's cheeses, game and Spain's traditional cold-cured meats; and the surrounding valleys yield locally-grown fruits and vegetables, such as peaches, pears, asparagus, beans, artichokes, mushrooms and the famous piquillo red peppers.
Basque Food in Pamplona: Pintxos (Tapas)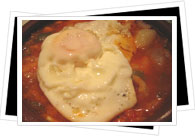 One of the best ways to try the best of Basque food in Pamplona is to "ir de pintxos". Known in Basque as the "txikiteo", it's the deep-rooted custom of sampling the local specialties by bar-hopping your way through Pamplona's tapas - called pintxos in much of the north - scene. With everything from traditional to innovative pintxos, Pamplona is known as a fantastic city for tapas. Head to the winding streets of the oldest part of the city, La Navarrería, for the city's very best "txikiteo".
Basque Food in Pamplona: Typical Dishes
Bean dishes
Meat and fish stews
Marmitako: Fish stew made with tuna, potatoes, onions, peppers & tomatoes
Ajorriero: Cod in oil and red peppers
Leche frita: Custard-like dessert
Txistorra: Pork-based sausage
Migas de pastor: Fried breadcrumbs with ham
Pacharán: Favorite after-dinner liquor
Chuletón: T-bone steak