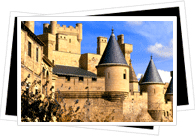 Introduction
Olite has a reputation fors its quiet streets and relaxed atmosphere which is slightly ironic when you consider what the main attraction is for bringing people to this fine town. It is known for its exquiste examples of Gothic architecture.
Where to go and what to do!
The Palacio Real takes over a majority of the town. This royal palace is known as the castle in Olite and was used for its defensive capabilities during the medieval period. It shows its worth with the sustained condition it has been left in. It was built on what was once a Roman garrison, making it one strong defense built on top of the original. It also has the Iglesia de Santa Maria la Real connected to it.
The Santa Maria church is once again a terrific example of Gothic architecture and has a detailed design that will leave you gazing in awe. Another interesting point of your trip from Pamplona to Olite that will excite wine connoisseurs with the appropriately named Museo del Vino (Wine Museum). It has all the major names of Navarra wines and whilst you are exploring you will be run through the process of wine making. The first floor is dedicated to the grape growing with the second dedicated to the actual making of the wine. The museum accommodates to English speakers.