If point A and point B are just a little too far from each other for your liking, Pamplona has a pretty comprehensive urban bus system that makes getting around the city a breeze. As many as 102 of these green, white and yellow buses are out and about at any given point during the day.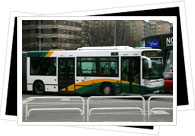 Pamplona's city bus network, also known around town as Villavesas, is operated by the Mancomunidad de la Comarca de Pamplona and consists of 21 daytime bus lines throughout the city. There are also another 9 night-time routes; don't, however, always count on these buses at 4:30am when you're done partying. The only day of the week when the night buses run all night long is Saturday night, while during the week they run until midnight and on Fridays until 4:00am. Catching a ride on a Pamplona bus will cost you 1€ per journey.
For more information (time schedules, prices, bus routes), check the bus company's official website:
www.mcp.es/tuc/index.asp.