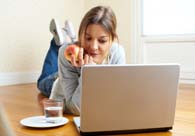 Our partner school in Pamplona has three housing options available to students: host families, student apartments or private hotel rooms and apartments. All are located at no more than 30 minutes from the school and have been carefully evaluated by staff members using a strict approval process.
Host Family
Living with a Spanish host family is a wonderful way to immerse yourself in Spain's language and culture. Your host family will speak to you exclusively in Spanish and provide you with an authentic Spanish-speaking environment in which you can practice all the skills you learn in class. Plus, what better way to get an insider's look at Spanish customs and lifestyle?
Shared Student Apartment
If you're looking for an open, multicultural and stimulating atmosphere, then the shared student option might be just what you're looking for. You will meet and live with other international students who are studying at our partner school.