Culture vultures won't walk away disappointed after a meandering stroll through La Navarrería. Pamplona's oldest "burgo", or "borough", is steeped in history and home to beautifully-preserved architecture, stretches of the original city walls, centuries-old festivals, valuable museums, first-class theaters and much more. Plus, La Navarrería is the hub of Pamplona's social life and without a doubt pintxos central, where you can enjoy the Spanish art of bouncing around from bar to bar testing each establishment's scrumptious tapas, called "pintxos" in Basque.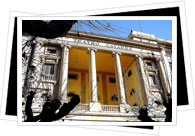 Once you visit the Catedral de Santa María, take a look through the Museo Diocesano. The museum is located in the cathedral's former refectory and kitchen - sights in their own right - and showcases a valuable collection of Navarran religious artwork.
If you're itching to spend an evening at the theater, Pamplona has a top-notch theater - the Teatro Gayarre - boasting a schedule jam-packed with musical, theatrical and dance performances. The original theater, built in 1841, was situated on the Plaza del Castillo and was named the Teatro Principal. It was renamed in 1903 in honor of local opera singer Julián Gayarre, who had died a few years earlier. When Pamplona's military function was deemed obsolete at the beginning of the 20th century and sections of the city walls were demolished to allow the city to expand, the theater moved to its present location on Calle Carlos III. It still preserves a hefty part of its 19th century façade.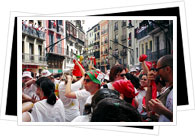 La Navarrería is the place to be come July 6th, as its streets are packed with people reveling in Pamplona's famous festival: Los Sanfermines. Once the inaugural rocket is launched from the Ayuntamiento to the cheers of thousands, the city turns into a 24-hour party zone. The most famous part of the festival is, of course, the Running of the Bulls, when up to 3,500 risk-takers dash down the narrow streets of La Navarrería trying to avoid being gored or trampled by the pack of bulls right behind them.
Pick a spot along the route to take in the madness, and then head to the emblematic bullring for some of the best bullfights in the country!
Where to experience culture in La Navarrería