Highlights:
La Ciudadela
Puerta Principal
Polvorín
Sala de Armas
Horno
Pabellón de Mixtos
Capilla
Puerta del Socorro
Vuelta al Castillo Park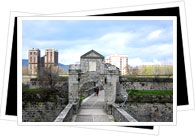 La Ciudadela, Pamplona's imposing citadel, was built in the 16th centuries under the orders of Spanish king Felipe II. Enter La Ciudadela through the main gate - the Puerta Principal - located on Avenida del Ejército. This 16th century entrance to the complex faces the direction of the historic city center. On top, you'll notice the old guard's post, which was used to keep a close eye on the comings and goings of La Ciudadela. Today, however, it serves as an excellent view point over the city.
Inside, it's hard to remember that the complex was once a heavily fortified citadel armed to take on any unwanted forces coming into Spain via Pyrenees. Its pavillions, moats and bastions are now home to walking paths, gardens, fountains, play areas for children, tennis and "frontón" courts, benches and much more.
Be sure to take a peek into the main buildings of the original citadel, all of which are now culture and exhibition spaces: El Polvorín, La Sala de Armas (weapons building), El Horno (old bread oven) and El Pabellón de Mixtos (supplies building). La Ciudadela's very own chapel, or "capilla", is actually built right into the massive walls. Today it's not only an interesting little stop in La Ciudadela, but it's also a popular spot amongst locals to tie the knot.
Not far from the chapel is the beautiful 18th century Puerta del Socorro, the second entrance to La Ciudadela. The Puerta Principal was meant to link La Ciudadela with downtown Pamplona, while the Puerta del Socorro connected it with the exterior. For this reason, it's separated from the exterior with what was once a moat. Today, you can still cross the bridge that once handled closely-watched traffic into and out of the citadel.
Crossing the bridge will lead you to the Vuelta del Castillo, yet another of Pamplona's excellent parks. This green belt is a favorite local spot to take a stroll, go for a jog or just relax and people-watch.