The "burgos" (boroughs) of San Cernin and San Nicolás were both constructed in the 12th century outside the limits of La Navarrería. However, they were established right next to each other, and this "too close for comfort" situation led to centuries of conflicts. In the end, the rivals erected defensive walls against each other and their churches doubled as defensive forts.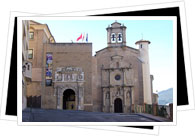 After hundreds of years of ongoing conflicts, the San Cernin and San Nicolás were finally united with La Navarrería into a single city, Pamplona. The walls between the two boroughs - present day Calle Nueva - were taken down and the city walls were extended to incorporate them into the now unified city. Today, San Cernin and San Nicolás compose the extension of Pamplona's charming old town. Here you will find old city walls, convents, churches, elegant architecture, the city's oldest park and much more.
Perhaps the area's top cultural spot is the Museo de Navarra, a small but interesting museum dedicated to Navarra's rich cultural, artistic and historical heritage. The museum is housed in a medieval former hospital, the 16th century Hospital de Nuestra Señora de la Misericordia, and has an eclectic array of sculptures, paintings, archaeological finds from prehistory right up through present day. Peruse the collection and see Romanesque capitals from Pamplona's ancient cathedral, Moorish chests, Roman mosaics, artwork by Navarran artists and even a painting by Goya. It also constantly features temporary exhibitions, conferences, film series and other cultural activities.
Where to experience culture in San Cernin & San Nicolás
Galleries & Cultural Centers
Sala de Exposiciones García Castañón

Sala de Exposiciones Zapatería

Galería San Antón

Galería de Arte Carlos Ciriza
Saide Carlos III

Saide Príncipe de Viana